Your Evaluation Plan is a description of the overall approach or design that will be used to guide an evaluation. It includes what will be done, how it will be done, who will do it, when it will be done, why the evaluation is being conducted, and how the findings will likely be used.
Evaluation Planning
In California Tobacco Control, the evaluation plan type refers to the type of evaluation that corresponds with the objective. Choices are legislated or voluntary policy adoption and/or implementation, individual behavior change, other with measurable outcome, and other without measurable outcome. The graphic below shows which types require outcome evaluation. Note: process evaluation can always be useful.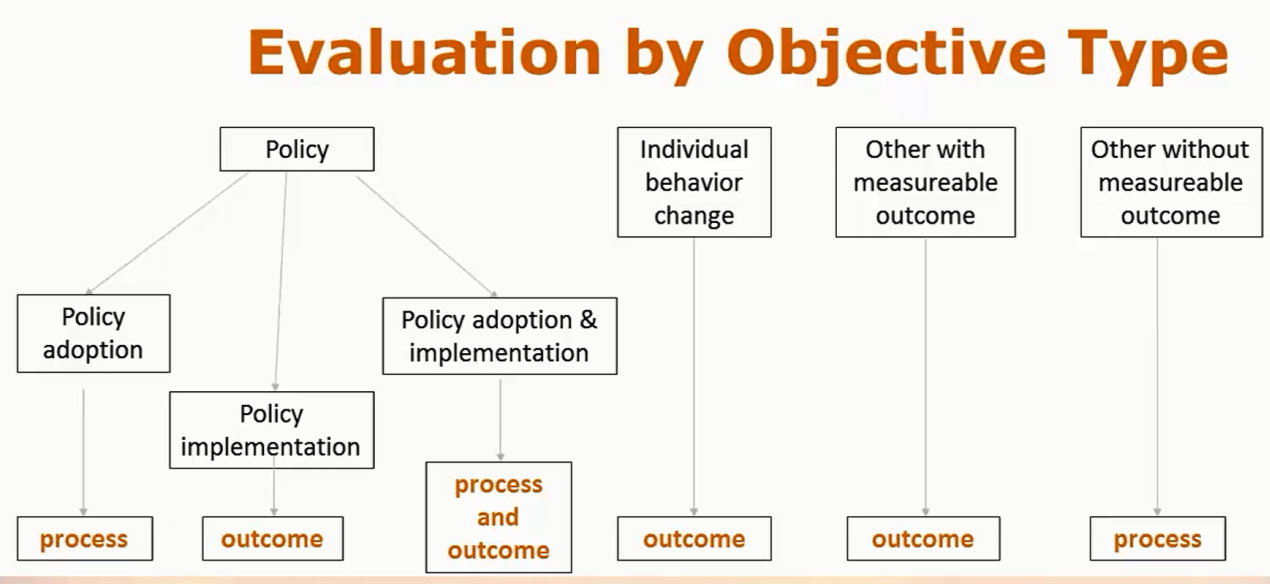 See our sample evaluation plans below.
"Other" Evaluation Activities 
Photovoice: A Powerful Tool for Engaging Community Members
Photovoice is an excellent tool for engaging youth and adult partners in exploring, documenting, and addressing community problems. This webinar provides an overview of what Photovoice is, discussed the history and framework of Photovoice, and shared why it's useful in partnering with community members to solve tobacco-related problems. 
The second session of this series prepares tobacco control staff on techniques for recruiting and training youth and adult volunteers to participate in Photovoice activities.  Staff will learn the necessary steps for planning and facilitating Photovoice projects that equip participants to capture pictures, frame community problems from their own point of view, and promote community discussion of their exhibit.
Photovoice is a powerful engagement, evaluation, and advocacy tool. This webinar will highlight what to do after the pictures have been taken. The session will explore having facilitated discussions with community members, problem identification, and linking community pictures with advocacy tactics.