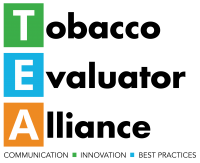 The Group Executive Evaluators Network (GrEEN TEA) serves as the Executive Committee or Steering Committee of the Tobacco Evaluator Alliance (TEA). GrEEN TEA is composed of 5-7 tobacco-funded project evaluators in California, external and internal evaluators, with diverse backgrounds and varying levels of experience.
Current members:
Danica Peterson, MPH
Health Educator & Internal Evaluator
Sacramento County Public Health
Greetings, TEA members! I work for the Sacramento County Department of Health Services Public Health Division's Tobacco Education Program, a Local Lead Agency. I serve a variety of roles including Health Educator, Community Engagement and Coalition Coordinator, and Internal Evaluator. I have over 6 years of experience in this program. My evaluation experience includes writing Brief Evaluation Reports (BERs) and Final Evaluation Reports (FERs), creating and implementing data collection instruments and assessing results (public opinion polls, retail observation surveys, focus groups, key informant interviews, etc.), and collaborating with an external evaluation team from 2018-2021. As of January 1, 2022, our program no longer has an external evaluator, and I am taking the lead on our program's evaluation activities.
My education includes a Master of Public Health (MPH) degree from California State University, Fullerton and a Bachelor of Arts degree in Cognitive Psychology from the University of California, Irvine. My strengths include written and oral communication, relationship building, and creativity. I am passionate about bringing fresh perspectives to tobacco control and thinking outside of the box. I have been a member of GrEEN TEA since 2019 and thoroughly enjoy the opportunity to apply my skill set while also learning and growing alongside fellow evaluators in tobacco control.
When I'm not working, you can find me teaching a dance fitness class, performing in a comedy show, hosting a themed event, or enjoying a glass of wine. Cheers!
Denise Cintron Perales, MS
External Evaluator
Perales & Associates Evaluation Services (PAES)
Hi, TEA members. I am one of the founding members of TEA. I also serve as an external evaluator and principal with Perales & Associates Evaluation Services (PAES). For 25 years, PAES has provided a wide range of public health program evaluation and strategic planning services to California state and local public health agencies, as well as non-profit community-based organizations.
My role as an external evaluator and specifically, my tobacco-control experience, includes designing effective program evaluations, evaluating local, regional, and competitive-grantee projects, and detailing their policy-based accomplishments in evaluation reports and presentations. Being engaged in many of the state's anti-tobacco battles and helping to protect people of all ages from the dangers of tobacco is a cause that I truly believe in.
Before joining PAES, I served as a project director and executive director for not-for-profit organizations. Having worked at the grassroots level I know the challenges associated with implementing programs and conducting effective evaluations. I hold a BS in Social Work from Florida State University and an MS in Organizational Development from the University of San Francisco.
Visiting wine country, traveling, and gardening are my passions when I am not working.
Jay McCubbrey, PhD
Project Director & External Evaluator
Tobacco Free North Coast
I have 30 years of experience in local tobacco-control program development, implementation, and evaluation.  I have helped to advance comprehensive secondhand-smoke policies in more than 16 jurisdictions in northern California from Daly City to Crescent City. I've also served as an activist, coalition coordinator, external evaluator, and project director.  My formal education includes a PhD from the Western Institute for Social Research in Berkeley, California (2007), a M.S. from University of California Davis (1991) in community program planning and evaluation, and a B.S. from California State University Humboldt (1987) in natural resources planning with a minor in psychology.  I don't have much spare time these days, but I still enjoy any type of outdoor activity especially camping, backpacking and summer Saturdays at the river.
Stergios (Steve) Roussos, PhD, MPH
External Evaluator
Alliance for Community Research and Development (ACRD)
Hi TEA Community! I am an external evaluator for CTCP programs and a member of GrEEN TEA. I love being a community-based researcher working with diverse people to address local concerns. For nearly 30 years, I have had the privilege of working with academic and community teams to understand and improve conditions that improve quality of life, especially with our most vulnerable and under-represented groups. Growing up in a pro-tobacco culture, I have been a tobacco control advocate most of my life, doing my best to prevent tobacco use from taking my loved ones. I have been a tobacco control researcher since 1993 and supporting CTCP-funded local agencies and competitive grantees since 2004. In 2018, I was thrilled to lead a team to develop "Fighting Flavored Tobacco: A Best Practice Guide for Developing Local Policy Campaigns to Restrict the Sale of Flavored Tobacco Products in California." I love working with gritty tobacco control teams serving under-resourced communities most targeted by Big Tobacco. There is a lot of joy in using good evaluation to pass local tobacco-control policies. The Tobacco Evaluator Alliance – TEA – is a wonderful way to learn and advance our tobacco control goals. Really glad to be in TEA together.
Sue Haun, MA
External Evaluator
Strategies By Design
Hello TEA members! I am external evaluator and a founding member of GrEEN TEA.  As a private consultant, I have over 30 years' experience in qualitative and quantitative research and working with public health departments, and over 20 years in tobacco control evaluation, working with both Local Lead Agencies and competitive grantees funded by the California Tobacco Control Program. As a private consultant, I have designed a variety of assessment tools, developed numerous studies and final evaluation reports, and designed numerous single- and multi-year evaluation plans. I'm also a co-author of the California Tobacco Control Evaluation Plan and the Tell Your Story Guidelines for Preparing Useful Evaluation Reports.
With an MA in Organization Development (OD), I am personally and professionally passionate about the Tobacco Evaluator Alliance (TEA). Never before has there been such an entity in California for CTCP-funded evaluators. We now have a place where we can come together, share what works, provide support to one another and be part of an evaluator community!
When I'm not working, you can find me piddling around in my yard, cooking up the yummiest-ever marinara sauce or taking a walk around the neighborhood.
Yaneth L. Rodriguez, MPH
Regional Coordinator & Internal/External Evaluator
University of Southern California
Hi, TEA members. I'm excited to serve as a GREEN TEA member. I have over 16 years of experience in tobacco research, control, and evaluation. I obtained a Bachelor of Science in health promotion and disease prevention and obtained a Master of Public Health from the Keck School of Medicine of USC.
I have served as an evaluator for several CTCP-funded projects and non-tobacco-related community-based non-profit organizations since 2009, including several statewide technical assistance agencies and competitive grantees on projects related to smoke-free policies in multi-unit housing (MUH). Currently, I serve as the evaluator for the Latino Coordinating Center for a Tobacco-Free California (LCC) (2018-present). I also helped to evaluate a Youth Rights of Passage curriculum for Chicano/Latino youth called Xinachtli with the National Compadres Network (2018-2020), a Census 2020 evaluation project with the California Native Vote Project (2018-2019), and with a project called Breaking the Cycle of Multigenerational Violence - Evaluating Two-Generation Practices with Vision y Compromiso funded by the Blue Shield of California Foundation (2020-2022).
I also have extensive research experience from UC Irvine Department of Pediatrics, and the Department of Population and Public Health Sciences at the Keck School of Medicine at USC. In addition to having experience in evaluation and research, I also have experience and enjoy leading webinars and trainings, providing technical assistance, and working with community-based groups on a variety of topics.