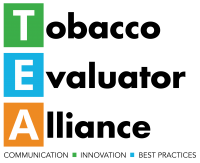 Welcome! 
The Tobacco Evaluator Alliance (TEA) is a community of practice for California Tobacco Control Program (CTCP)-funded evaluators. TEA is a forum for evaluators, facilitated by evaluators, to promote communication, share resources, and troubleshoot real issues in the field.
What Can TEA Do For Me?
Quarterly TEA Meetings
Stay up-to-date on advancements in the field.
Be the first to know about upcoming training and work opportunities.
Share examples, tools, knowledge and capacity building.
Become familiar with your colleagues working in the field.
Quarterly TEA meetings take place every fourth Wednesday of February, May, and August, and the third Wednesday of November from 10:00 – 11:30 AM.
Special Topic Forums
In-depth conversations on tobacco control evaluation.
Improve your comfort level in addressing new challenges.
Develop your expertise in tobacco-evaluation focus areas.
Share your knowledge and experience with others to advance the field.
Build collaboration with other evaluators and programs.
Advance your knowledge of priority populations.
Special topic forums are held on an ad hoc basis and are scheduled based on member interest.
Communication Channel
Access to TEA listserv to communicate with other CTCP-funded evaluators.
Information about the latest California tobacco evaluation updates.
Not a Member?
To get email notices directly, get on the TEA listserv. Not on the TEA list yet? Sign up here.
Want to send an email to all TEA members?
Use the TEA listserv email address! Note: When you email the listserv, please be sure to include your email in the body so that we can verify your message. This helps us prevent spam messages!
Need More Information?
For more information on the quarterly TEA meeting, contact Jorge Andrews at jtand@ucdavis.edu 530-754-8929.
The Tobacco Evaluator Alliance is available as a resource to all CTCP-funded evaluators.