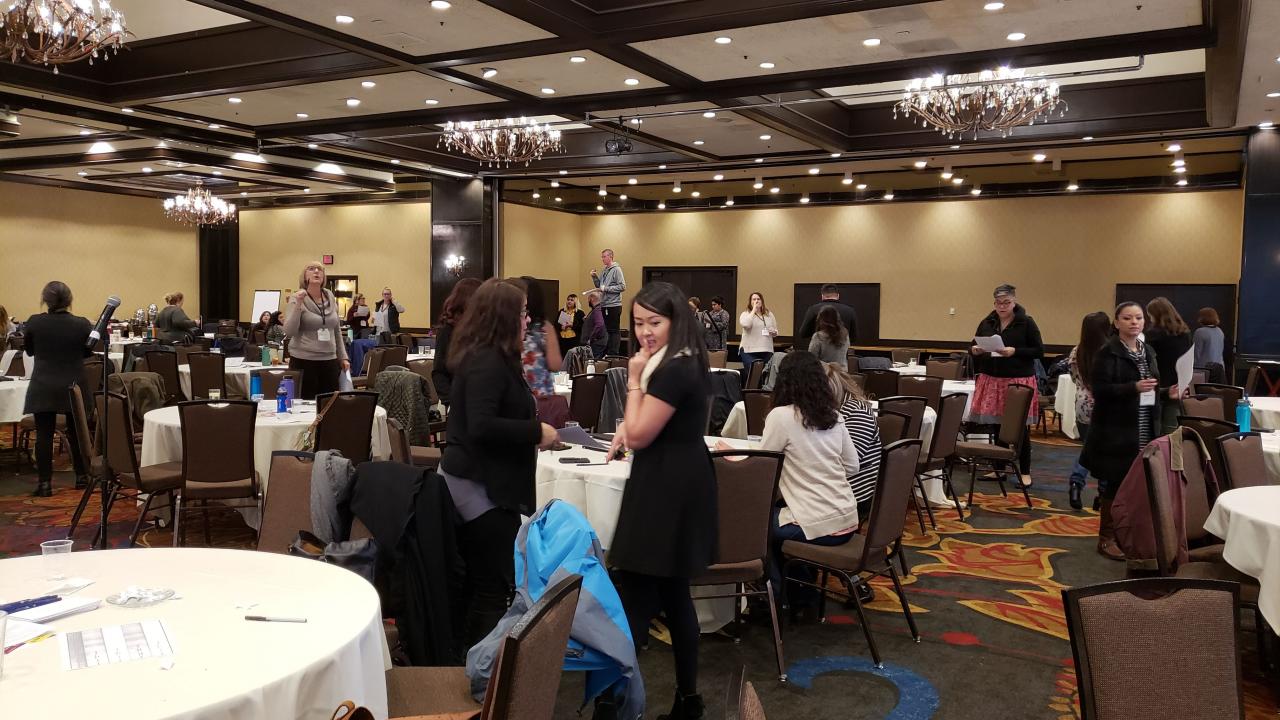 By Cindy Valencia
In February, the Tobacco Control Evaluation Center (TCEC) joined local and state partners for the 2019 Healthy Stores for a Healthy Community Train-the-Trainer Data Collection Training in Sacramento.
For our part, TCEC was proud to lead a breakout session on Youth Engagement for Data Collection on Day 2 of the meeting. Jorge Andrews from TCEC and local rock stars Daisy Lopez, California Health Collaborative Central Valley Project Director, and Kristina Herrera, Tuolumne County Project Director, took over the ballroom. About 50 participants attended and learned helpful tips in planning their own local data collection training. 
Do you remember how many stores were surveyed in 2013? 2016? Try thousands! 7,000+ surveys, and 40% of these surveys were completed by youth. Youth data collectors play a huge role in this effort. 
The room was diverse with experienced and new, but most importantly we all left with the following key takeaways:
1. Engage youth in a fun, multi-day training and don't be afraid to cover more than data collection.
Practice the things that are difficult in a fun and relaxed way. Mock stores are a great way to provide hands on experience before the real deal.   

Keep your finger on the pulse: do your volunteers feel overwhelmed, or do they want to be more involved? Debrief often and throughout the training. 

Training youth on the negative impacts of tobacco and preparing youth to serve as a media spokesperson is a win-win opportunity you do not want to miss! Is there a possibility your observers can help with public opinion polls later?
2. Keep it active, take advantage of competitiveness to gain buy-in and make sure everyone can measure with the same rubric.
Don't know how to make it active, no problem - use TCEC's sample activity to get everyone up, moving, talking and putting their observation skills to work!

Who doesn't like a little healthy competition?  From observations to public opinion polls, there are many fun ways to help participants practice and win a prize.  Who can accurately complete the most public opinion polls in 10 minutes?

It is important to follow and know the rules ahead of time on what is observed as well as how it is observed.   Who knew a simple question like how many windows are in the room could lead to so many clarifying questions?  What counts as a window?  Each window panel? Do we have to see it, or can it be hiding under a curtain?  Remember, we may be looking at the same thing, but if we do not know exactly how to define things, we won't have high interrater reliability!
3.  High quality data begins with high quality trainings.  It is very important to get your data collectors invested and excited to be a part of this effort.  ­
The training is a great time to define things, answer questions and prepare for the real deal in the "field." 

Public opinion polls represent a broad cross section of the population, so we can understand what different people think.  The more variation the better.  Remember, we want variation in people, not variation in technique.

When surveying, follow the prompt. Don't rush and overlook any details.  It is imperative to ask the question the same way, every time.  You are the front line and can help us make sure everything is measured the same way across the state.
4.  Start your recruitment early and don't forget Daisy Lopez and Kristina Herrera's final Q&A tips.
Recruitment and training
Step outside of your comfort zone and consider working with non-traditional partners. You can recruit youth through schools, alcohol and other drug programs, youth coalitions, other groups and word of mouth.  Interested youth can help you recruit other youth.   

Be thoughtful about the timing and the location. Spring break is around the corner…is there a Youth Leadership Summit on your horizon?  How will youth get to the training?  Will youth need transportation?  Food is a good motivator for attendance and participation. 

Make it fun!  Having slide, after slide, after slide over three days is not engaging.  Use quizzes (e.g. Kahoot), GAMEIFY, role play and have them walk around.  Role playing with staff pretending to be the retailer is always fun.
Data collection 
Pair up at least one adult with your youth data collection team.  An adult data collector was always with youth.  Try pairing up shy and outgoing personalities to keep youth engaged. 

Retailers were less likely to say no when youth were present.  It creates a friendlier vibe to survey stores.    

Youth bring a new perspective.  You not only provide them with new knowledge, but through this experience, they will frame their own conclusions about the tobacco issue in their community.
We are eager to jump into the 2019 data collection cycle, but the most important tip is SAFETY FIRST!  If you have questions we are here to help. Contact TCEC at tobaccoeval@ucdavis.edu or call us at (530) 752-9951.    
Category
Tags